Hair Styles
The Best Oil Based Pomades + Why To Use Them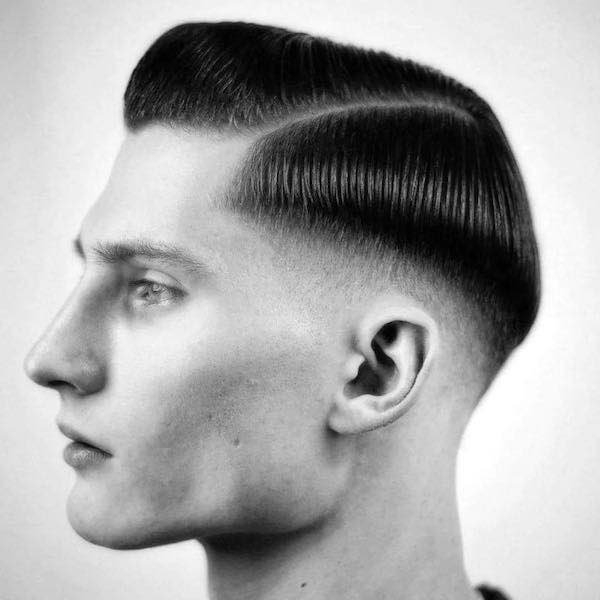 Traditional hair grease dates back over a hundred years because it is that good. Oil-based pomades are the ultimate for strong hold that is malleable and lasts all-day.. It also works for the thickest, coarsest, and curliest hair and conditions dry hair. The aphorism that oil doesn't mix with water holds true – hair grease is resistant to humidity and wet weather that can wilt water-based products.
The first ingredient in many oil-based pomades is petrolatum, a byproduct of petroleum refining. That might sound like something that shouldn't be applied to the body but petrolatum, aka petroleum jelly, aka Vaseline, has been used since 1870 with no known issues.
If you still don't want to use a petroleum product, there are alternatives. Natural oil-based pomades use one or more of the many plant-based oils including olive, grapeseed, jojoba, flax, castor, and more.
Wax is another ingredient commonly used in hair grease. It contributes to the malleable hold and conditions hair. Beeswax is a common ingredient be sure to check the label if you want a vegan pomade.
The downside to oil pomades is they are hard to wash out. On the bright side, many guys can go two or three days with one product application and small touch-ups. On the other hand, getting all traces of oil and wax out of hair requires an extra step or two in the shower.
Check out our favorite old and new oil-based pomades and some of the cool hairstyles they can make.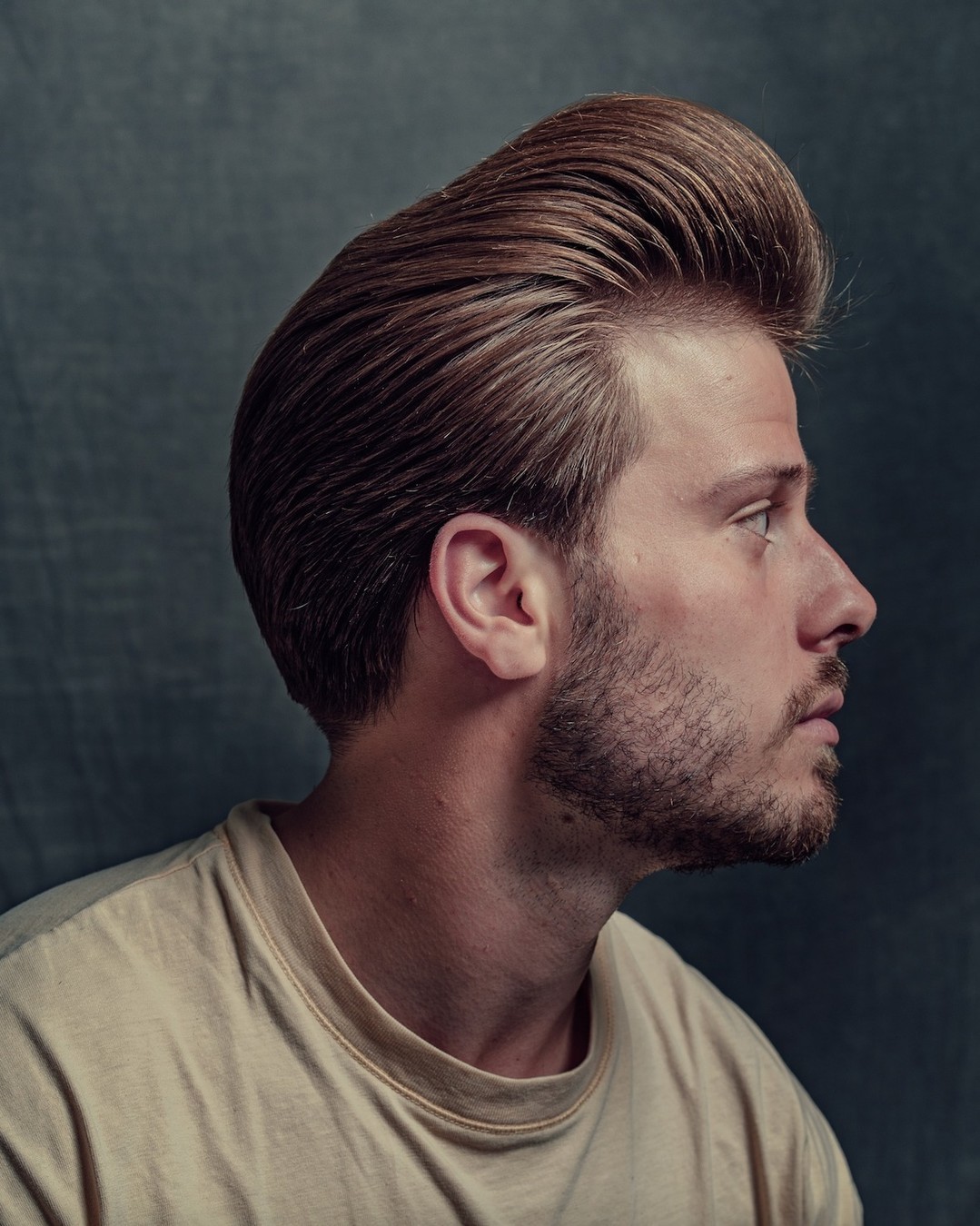 The Best Oil-Based Pomades, Hair Grease + Hair Dressings
1. Strongest Hold, Highest Shine Oil Pomade
For that classic greaser look, try Lockhart's Goon Grease. It has the highest shine of the strong hold oil pomades. It is also easier to scoop out and work into hair than many heavy hold products. The citrus cologne scent is cleans without being overpowering.
Try out all the best vintage looks like pompadours, jelly rolls, slick styles, and more. Last, Goon Grease is made at the Lockhart's Apothecary in Perry, Michigan.
2. Best Oil-Based Pomade Without Petrolatum
This isn't the Dapper Dan Pomade that was in O Brother, Where Art Thou (the brand wasn't established until 10 years after the movie) but it could have been. It provides all the hold and shine that Everett wanted.
The oil-based pomade is petrolatum-free and water-soluble. The top ingredients are lanolin, water, castor oil, and two kinds of wax. This combination gives excellent hold while washing out of hair and off of hands more easily than petrolatum-based pomades.
3. Strongest Hold Oil-Based Pomade With Natural Shine
Reuzel, pronounced roo-'zul, is Dutch for lard. Reuzel Pink is the strongest oil-based formula with plenty of beeswax for malleable hold. Use the pink can for the tallest hairstyles, thickest and curliest hair, and to control the most stubborn cowlicks.
This type of pomade has a harder texture that may take a nail to scoop out of the can and some extra time emulsifying it between the palms. Some people like to give the can a quick blast with the blowdryer to warm it up fast.
• Strong hold, medium shine
• Can tame any hair type or cowlick
4. An Easy To Use Hair Grease
Not everyone needs as much hold as Reuzel Pink so they also have a medium hold Green. It is easier to scoop out and apply to hair and also contains tea tree oil to help it wash out out of hair more quickly than traditional oil pomades.
Many people like to mix together the Pink and Green to create their ideal balance of hold and shine. Try an equal ratio for freshly washed hair. For a second or third day refresh, try a 3/4 Green with 1/4 of the Pink. Even though they are very different scents, they mix together well.
5. Best Natural Oil-Based Pomade
Instead of petrolatum, John Masters Organics Hair Pomade uses 8 different oils and beeswax for shine, hold, and conditioning. With a natural shine and medium hold, try this pomade works best for longer hair, wavy and curly hair, and taming frizz. It also an option for 360 waves.
6. The Best Value Oil-Based Pomade
The Black & White Hair Dressing formula is so good that it is hasn't been changed for a hundred years. The price tag is lower than many modern hair greases plus the 6.76g200ml tub is bigger than all the others. This is good choice for starting out with oil-based pomades.
The medium hold formula can hold and sculpt normal hair, waves and curls. It's also a great choice for the medium length styles 90s hairstyles that have made a comeback.
7. Oil-Based Pomade That Is Easy To Wash Out
This is an interesting product that is billed as water-resistant. The first ingredient of O'Douds Multi-Purpose Pomade is water followed by a variety of oils and waxes. It doesn't wash out with just water but comes out of hair faster than other oil pomade.
This vegan and petrolatum-free pomade made with grapeseed and jojoba oils plus anti-oxidant rich rice bran wax.
Sometimes hair grease can soften in high temperatures but O'Douds Multi-Purpose Pomades keeps holding hair in all heat and humidity.
5 Cool Vintage + Modern Greaser Hairstyles
Check out these cool hairstyles that are best styled with hair grease. You can go all the way retro, new and trendy, or get the best of both worlds.
Elephant Trunk Hairstyle For Curly Hair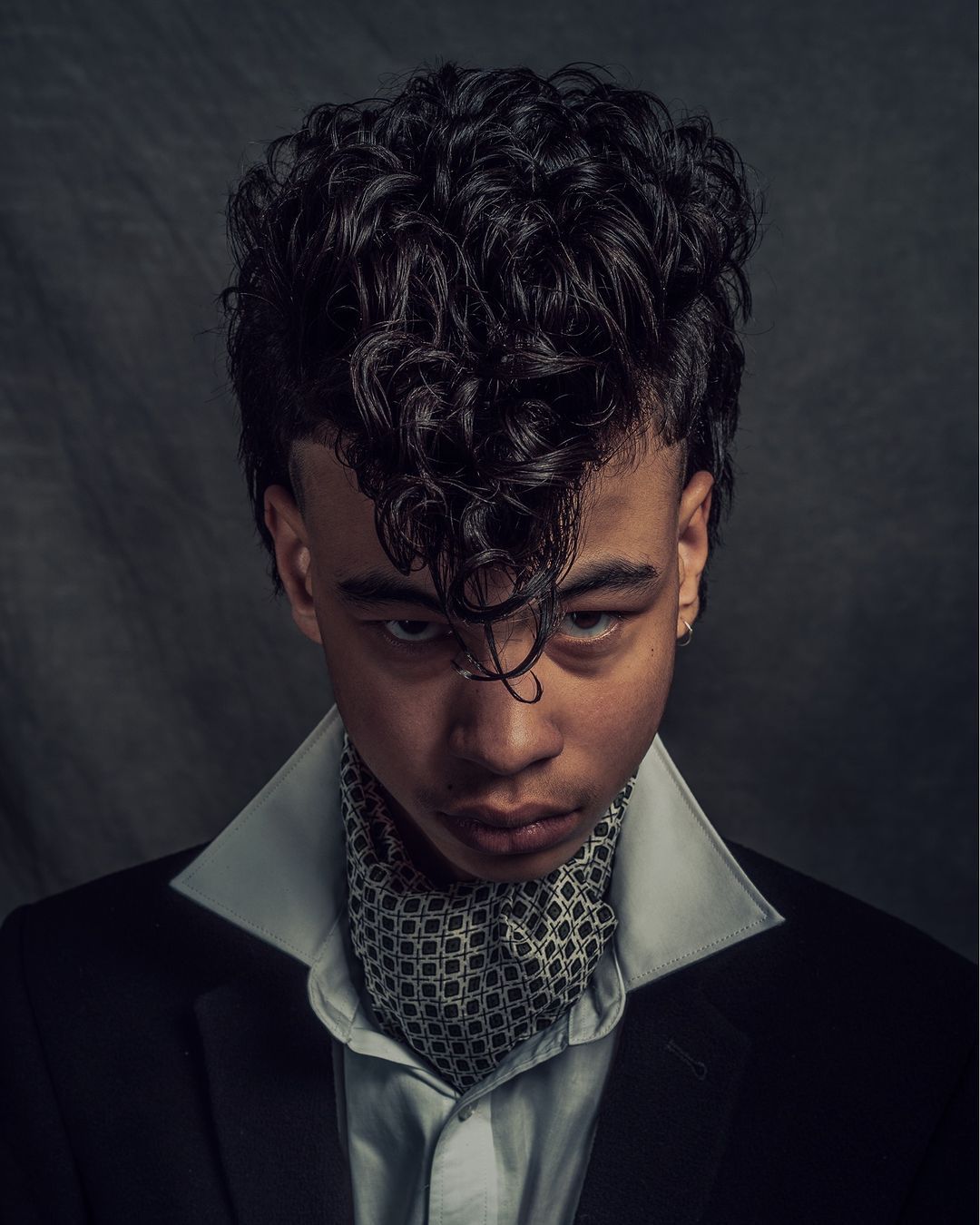 Most of the original oil-based pomades were made to add moisture, shine, and just enough hold to textured hair. These ringlet curls in an elephant trunk style will stay in place all day and night.
Side Part Style With Comb Marks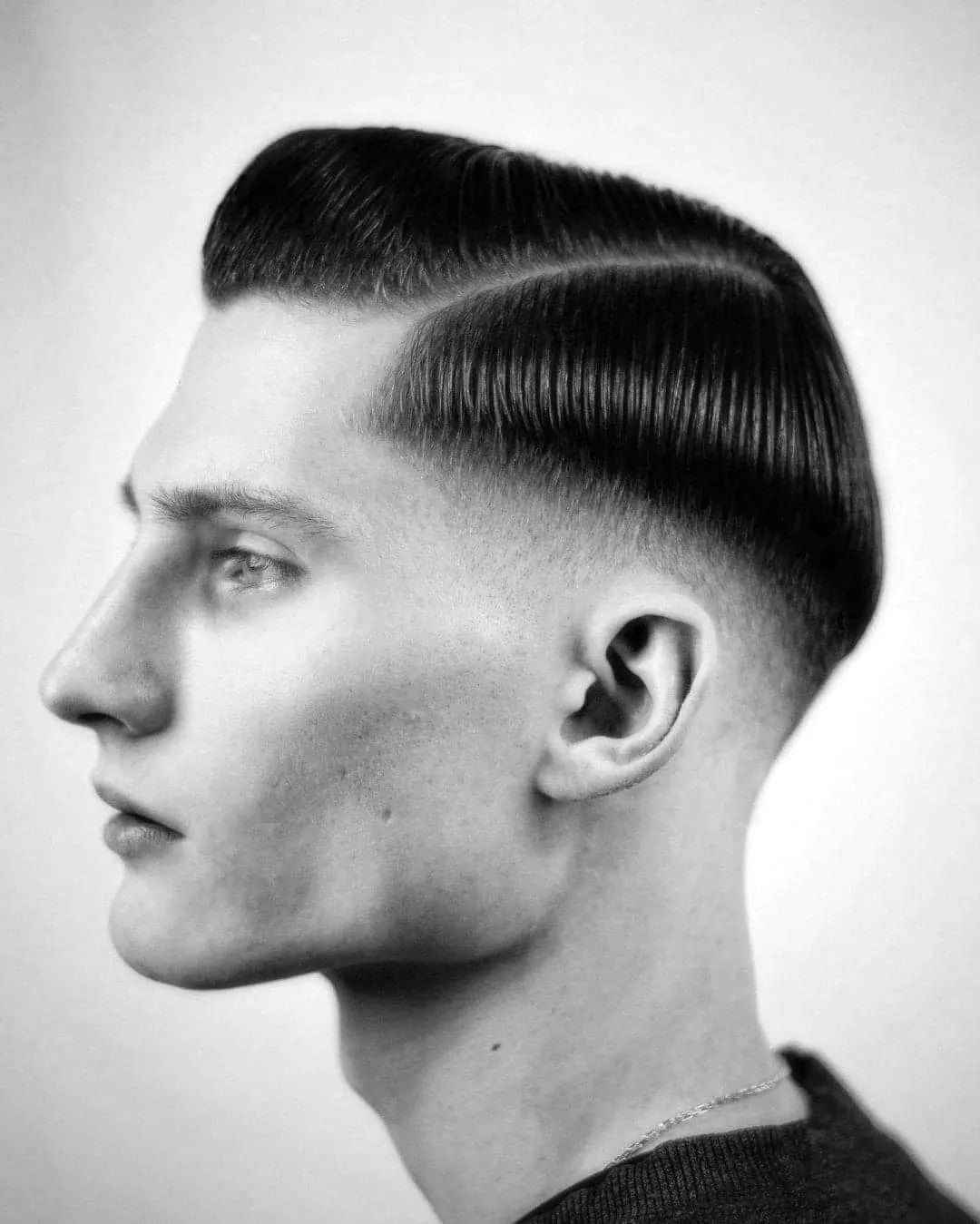 This modern low fade gets vintage styling from Reuzel Green mixed with Reuzel tonic. Use a comb for perfectly parallel lines.
Loose + Textured Styling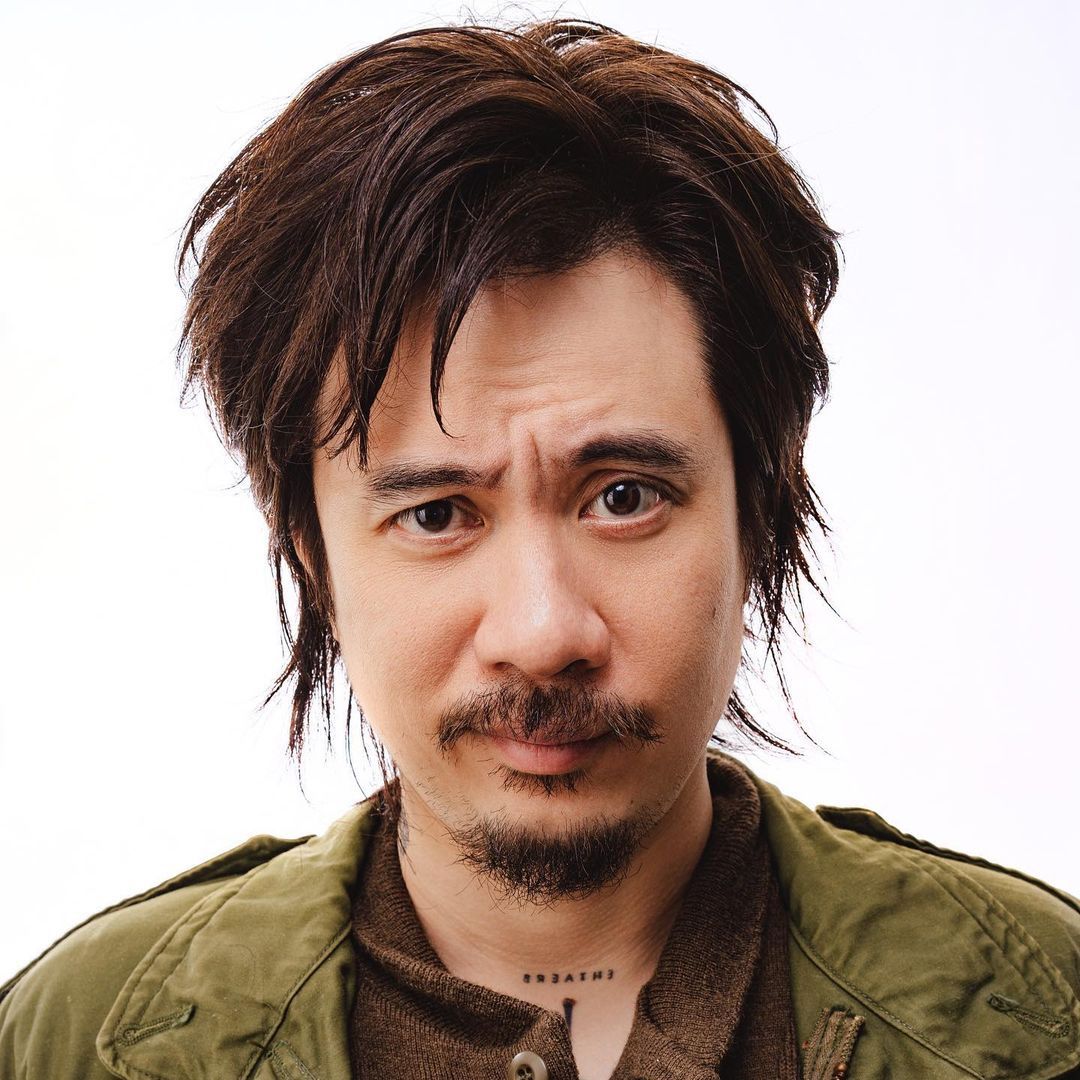 Oil-based pomades can be used for all types of hairstyles. This loose textured look was created with a hair product cocktail that includes Reuzel Green to define the sections and texture.
How To Style A Mullet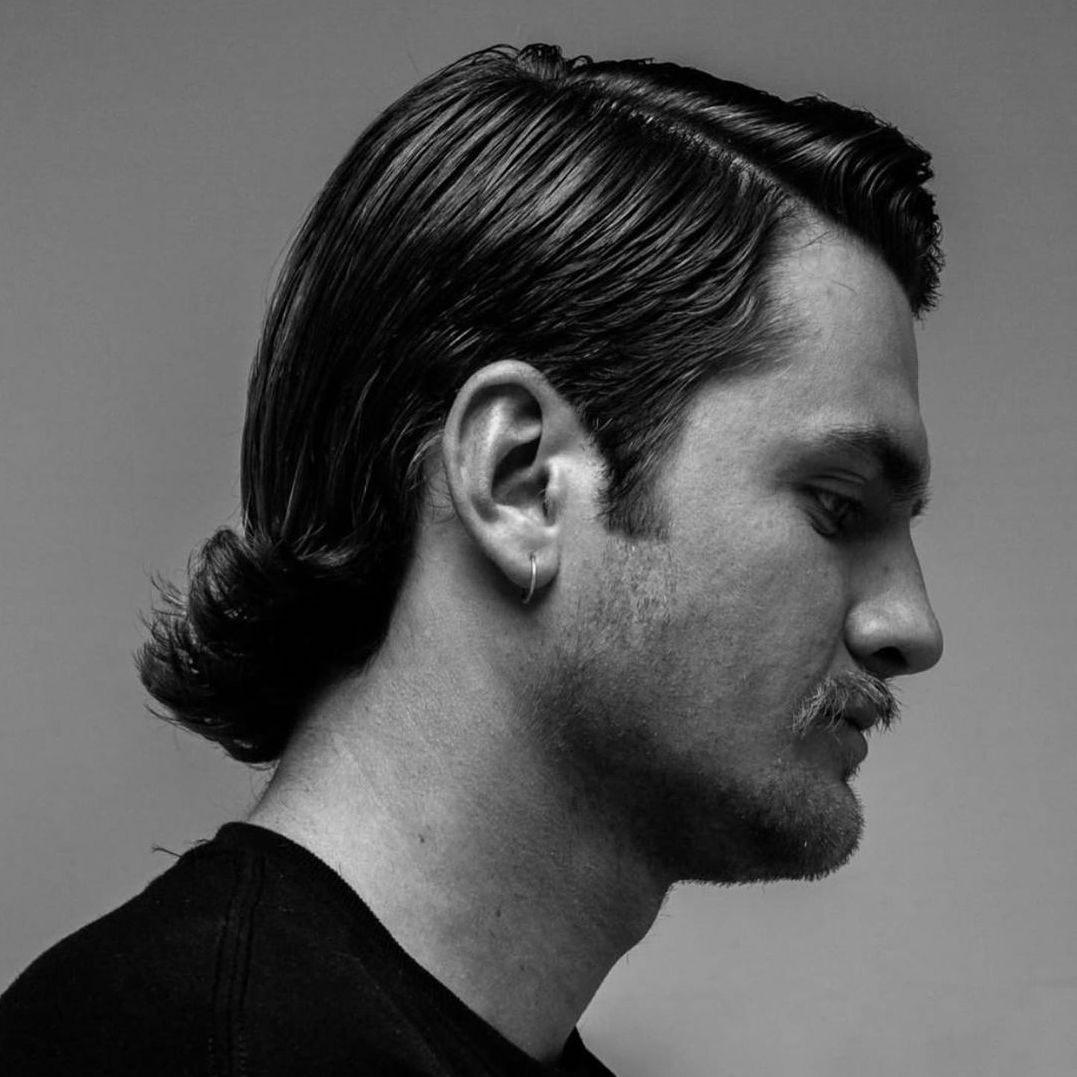 Some retro flow and vintage hair pomade combine into this currently trendy style. The shine bordering on greasy works with this most excellent mullet.
How To Apply Hair Grease
Applying an oil-based product is the same as any other. Start with a small amount and layer it until your get the desired result. Too much oil can make any hair look greasy and it takes more than water to get it out.
Scoop out a pea-sized chunk of product and rub it between your palms between it is smooth. Work it into hair starting at the crown and work forward. Apply more if necessary, coating hair from roots to tips.
Apply product to dry hair for the most volume and grip. Work product into damp or wet hair for loose and natural styles or to help spread product evenly through textured hair.
High hold pomade tends to be thicker and take more effort to work through hair. If it's an issue, try applying product to slightly damp hair for less tugging. Another option is to mix in a lighter product to adjust the consistency, hold and shine.
There will be some leftover pomade on hands. Use it to condition you beard, mustache, or eyebrows. It can also be applied to the elbows.