Hair Styles
6 Classic '90s Updos That Are Still Glamorous Today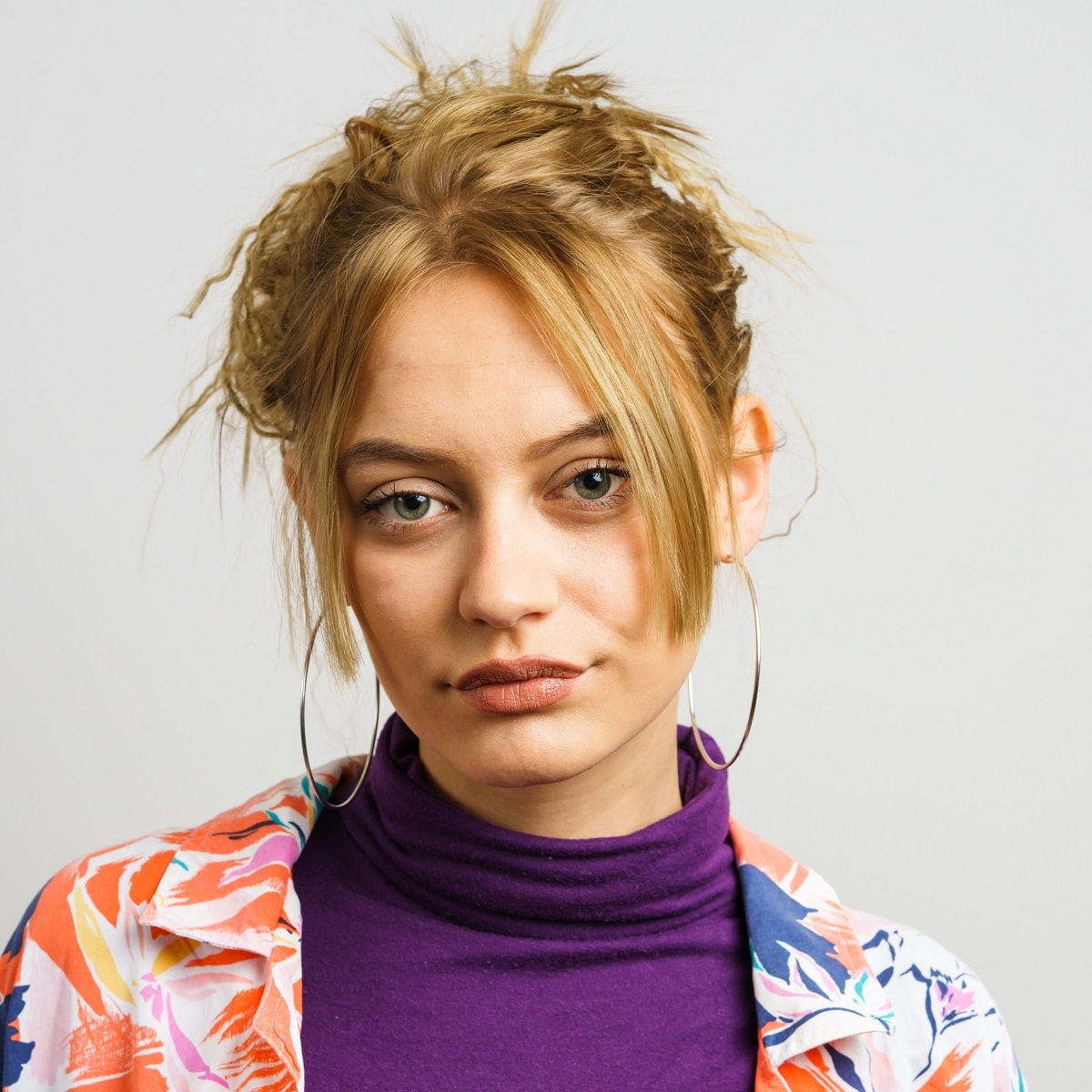 '90s updos stand out for their unique blend of simplicity and elegance. Many iconic celebrities made these updos popular when they were spotted at red carpet events. The '90s updo hairstyles can be defined by scrunchies, butterfly clips, and chopsticks.
Hairstyles Inspired by '90s Updos
One thing about the 90s hairstyle trends is that they are coming back stronger and in a more advanced way. 90s updo isn't a talk about the past anymore as many women try such updo hairstyles these days.
Whether you're feeling nostalgic or seeking inspiration, '90s updos offer a rich catalog of vintage hairstyles. Take a look at these updos:
1. 90s High Bun
You can do this 90s updo hairstyle with or without bangs. If you do not have bangs, let some hair strands from the front out.
Now brush your hair and gather them in your hand. Start twisting the hair in one direction while moving it upwards.
When you reach the top of your head, stop twisting and use hairpins to keep the hair in place. If you have long hair, you can stop at the top and twist the remaining hair around until a bun is formed.
2. Updo With Bangs
This 90s updo is best for any formal function you are about to attend. It can be for a prom or a wedding. This hairstyle is easy if you have long hair and the fronts are cut into bangs. First of all, you need to tie your hair in a ponytail.
Now bring the hair forward in a way that they fall forward. Use styling pins to keep the hair in place. You can style your bangs either with a straightener or a curling rod.
3. Messy Updo
Want to look chic and put together in an event without spending too much time on your hair? Try this messy updo style from the 90s. All you need are some styling pins and possibly a hair straightener.
Do a middle part and gather your hair like you would do to make a ponytail. It is rather best to put your hair in a rubber band before pulling it upward and styling it with pins. Remember to pull out some hair strands from the front.
4. Curly Updo
You can also do this hairstyle using a frontal wig but if you have enough hair to do this hairstyle, that is excellent too. Gather your hair in a ponytail and secure it at the crown of your head.
Now pick some hair from the ponytail and give them a nice curl. Curl all of the hair. Once the curling is done, roll the hair towards the ponytail and use hairpins to pin the hair in place. Put a headband to complete the retro look.
5. Undone Twisted Bun with Wispy Bangs
This 90s updo hybrid is a hairstyle that the actress, Dakota Johnson loves to have. The bun is messy and slightly undone while the wispy bangs add a look of modern-day hairstyle. This hairstyle requires a bit of backcombing too as this was a norm back in the 90s.
6. Bombshell Updo
The 90s bombshell updo has made a hell of a comeback in 2022. To achieve this hairstyle, you need to let some strands out from the front first. Now use hair gel or wax to make your hair as slick as possible. Gather the hair to make a half-up ponytail.
Now one by one, pick some hair from the ponytail, curl them with a curling iron, and move them around to attach it to the half-made bun with pins. The more you curl the hair, the more volume it will give to your bun.
Remember to use a hairspray after making the hairstyle to keep the hair intact and in place. Before making the hairstyle, prep your hair and use a heat protectant so your hair is ready for anything coming its way. Also, keep in mind no amount of hairpins is too much hairpins if you want to do a '90s updo!
Trending Topics