Hair Styles
5 Bold '80s Wedge Cuts That'll Always Be In Style
Want a haircut that is versatile and looks good on everyone? We have a suggestion for you, and that is to get the wedge cut. A classic 80s hairdo that started getting popular when an American figure skater, Dorothy Hamill, got this hairstyle for the Winter Olympics in 1976.
As soon as some fashionable women saw the hairstyle, they were immediately drawn towards it and got the wedge cut. If you want inspiration for an 80s wedge cut, you know the drill– keep reading this article.
What is a Wedge Cut?
Wedge cut was a popular hairstyle in women in the 80s, with hair at the back cut shorter and longer on the front. The term 'Wedge' came from the fact that this cut makes the hair look like an inverted triangular shape, aka a wedge. This way, the hair on the back and sides of the hair are kept shorter than the ones on the front.
Some 80s Wedge Cut Ideas For You to Try
One of the great things about wedge haircut is that you can wear this hairstyle in several ways. If you want to try an 80s wedge cut, check these ideas below:
1. Dorothy Hamill Wedge Cut
As we already know she is the reason why wedge cut started getting popular in women in the 80s, so it would be best if we show her hair first. You can see slight bangs and the hair that reaches her ears.
80s wedge was usually cut in a way that used to give hair the appearance of a voluminous crown by cutting the top hair in different layers.
2. Side Part Wedge Cut
This softer version of the 80s wedge cut is perfect for this summer season. The hair length starts longer from the back but gets shorter as it comes to the front.
You can even dye the edges of your hair to give your hair a more cool look. This'll make your hair a mix of 80s and 2020s.
3. Curly Wedge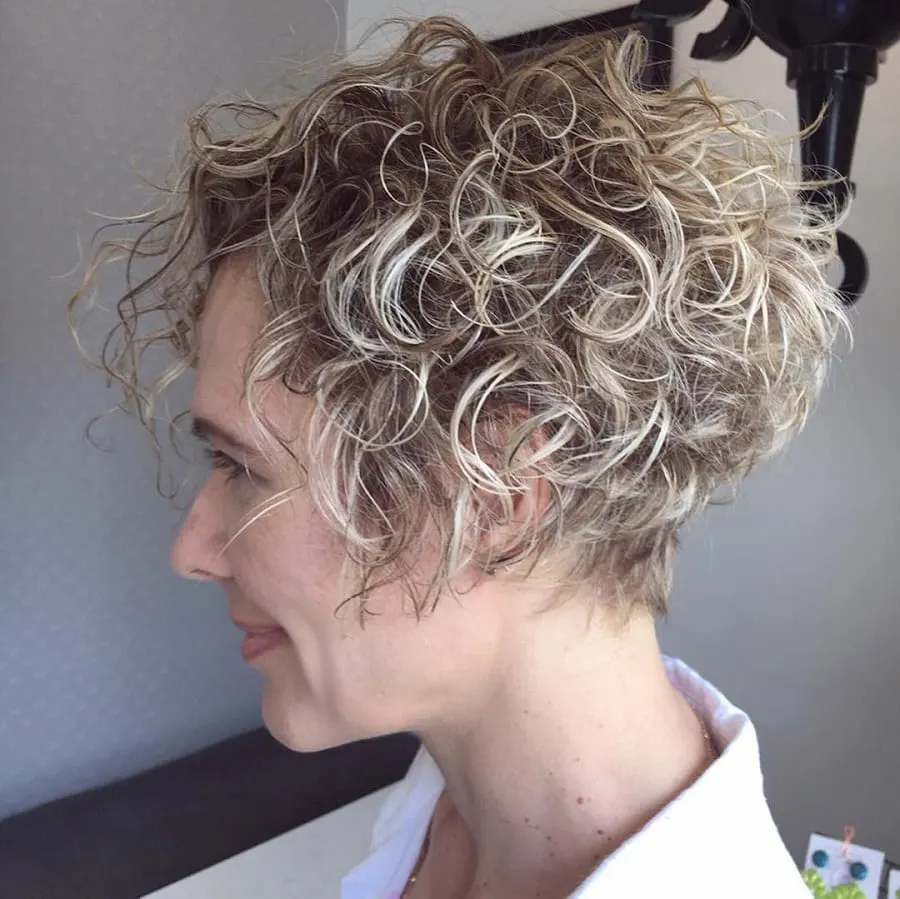 Now this hairstyle is what you need to try if you are looking for a haircut that lets your personality shine. All you need is to curl your hair after getting a wedge cut.
Make sure that your hair is cut at a length that you can easily curl the hair however you want. If you need to make your haircut more pretty, try getting some highlights so your hair can become the center of attention.
4. Sleek Wedge Cut
This is a mix of a pixie cut and an 80s wedge cut. The feather cut adds more to the overall look and makes the hair look voluminous from the crown.
It's a great option for a short wedge cut that won't irritate you while working. It is easy to style and take care of.
5. Layered Wedge Cut
Although it's a wedge cut, the hairstylist has done a great job adding more layers. This makes hair look voluminous and unique from other 80s wedge cut hairstyles.
The hair at the front is cut shorter than the regular wedge cut, which makes this haircut look amazing.
The 80s wedge cut is a haircut everyone should get once in their life. It will make your hair look different and unique from many boring haircuts. Get this haircut right now and look like a dream from the 80s!