Hair Styles
17 Ways to Rock the Handlebar Mustache With A Beard
Growing a stylish beard might be for men with a fashion sense, but accompanying the beard with a handlebar mustache is the choice only bold men make.
It's a unique and attention-grabbing combo that has been around for centuries, and its timelessness makes it relevant to this day.
Who Should Try A Handlebar Mustache?
So you're thinking about rocking a handlebar mustache? First off, if you've got an oval or elongated face, you're already ahead of the game.
But it's not just about the shape of your face. Your style and personality matter too! If you're into that vintage vibe or you work in a creative field, this mustache can be your new best friend. You've got to own it. Confidence and patience are important here. A handlebar mustache needs time to grow and even more time to style.
Got thicker or wavy hair? Even better. That makes styling a whole lot easier. So if you're up for a handlebar mustache with a beard, give it a shot!
How to Style Handlebar Mustache With A Beard
Have you been trying to muster up the courage to take a shot at growing the world-famous handlebar mustache with your beard? If yes, check out these 17 outstanding handlebar mustache and beard combinations to try in 2023.
1. Seamless Handlebar Mustache Full Beard and Glasses
This version of the handlebar mustache is more like an extension of a seamless mustache with no gap in the middle and curved ends.
It isn't too puffy or large, but it makes itself known despite a short-full beard. The round glasses are a clever addition as they align with the shape of the mustache.
2. Italian Mustache and Chin Curtain with Square Glasses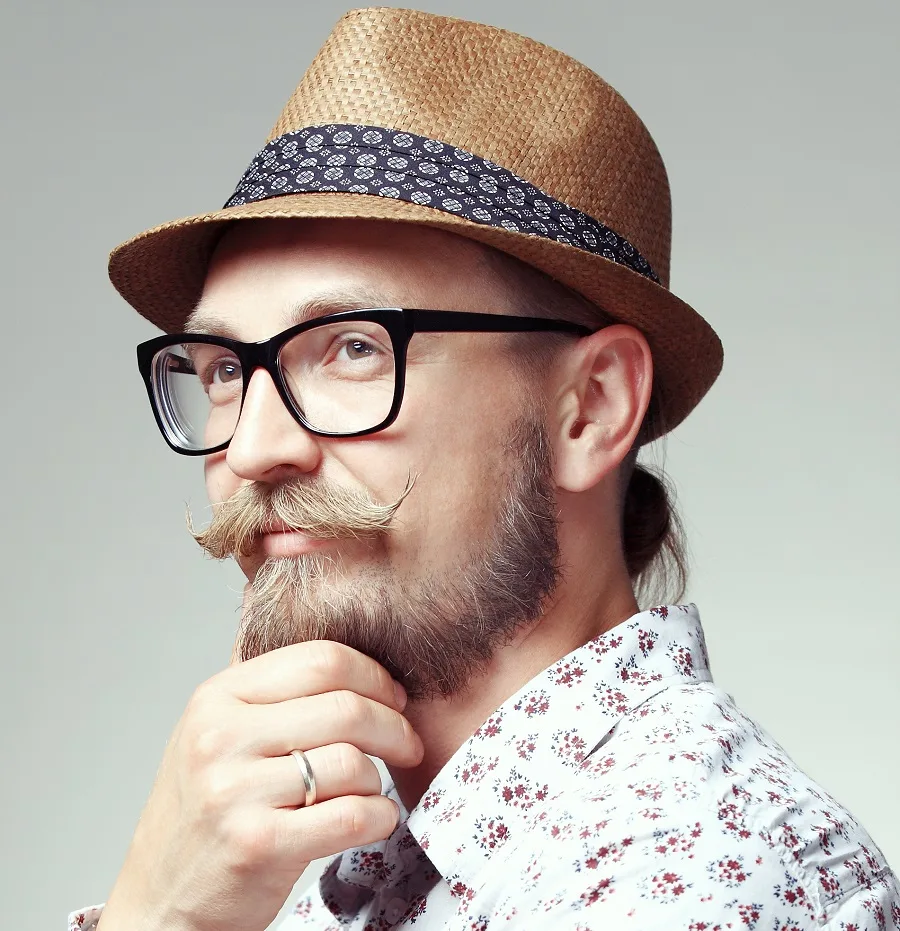 The older look is the look to go at times and this one comes with an Italian mustache that droops over the lips and then curves upward.
The chin curtain beard outlines the face shape whereas rectangular, fully-rimmed glasses add a new dimension to the whole setup.
3. Spaghetti Mustache with Long Bushy Beard
This handlebar mustache with the beard is the combination to go for if you're not scared of having a lot of facial hair.
If you look closely, it's a chevron mustache turned into a handlebar with curved ends. The beard is several inches long, bushy, and two-toned with light and dark hair.
4. Petit Imperial Mustache with Short Patchy Beard
Are you dealing with a bald head and need attention on a different part of your face? If yes, you are going to love this petit imperial mustache that gets attention without an aggressive appearance.
It looks great if you have a patchy short beard. Adding multi-colored round glasses brings even more to the face to snatch attention away from your head.
5. Salt and Pepper Garibaldi Beard with Short Side-parted Hair
If you're into short hair with a long beard and handlebar mustache, try this macho look. This look will give you confidence, and the handlebar mustache has been complemented with a beautiful Garibaldi beard. It's properly shaped and has neatly trimmed outer edges.
This salt and pepper long beard combo looks perfect with short, side-parted hair which is quite popular among the young population too.
6. Circle Beard with Long Afro
The handlebar mustache is very subtle, and probably not the star of the show in this look, but the circle beard does provide an anchor point on the face.
What really gets the attention is the long afro haircut, which springs out and makes itself known from a distance. It's a popular choice among black men.
7. Verdi Beard with Mid-fade Crew Cut
When you aim for a Verdi beard, you have to have this noticeable and eye-catching curved mustache on the face too.
The mustache is small and thin but stands out on its own against a full, curly beard. The high-fade haircut has almost a hard part, so you can call it a mid-fade, hard-parted crew cut.
8. White Bar Mustache with Scraggly Chin Puff
Here's something for older men that combines a handlebar mustache with a goatee beard. This goatee is more appropriately known as chin puff because it only covers a small part of the chin–not the whole chin.
The beard is slightly scraggly, but it is a great handlebar mustache style for older men with grey hair.
9. Winged Mustache with Van Dyke Beard
It's an interesting setup that combines the power of a beautiful winged mustache with a Van Dyke beard. The beard is triangular and has a length of a couple of inches hanging from the chin.
The wings of the handlebar aren't too prominent, but the mustache is long enough to get attention anyway.
10. Bandholz Beard with Military Haircut
Bandholz's beard is a combination of a long beard and a thick and long mustache that makes a strong statement at first glance.
This thick handlebar mustache with a wavy full beard is the ultimate manly look you can go for. With the tapered military cut, the overall look is even more awesome.
11. Bicycle Mustache with Long Beard and Curly Hair
This mustache style looks like the handlebar of a bicycle the moment you look at it. The middle of this mustache is almost a horizontal line, making the curved ends appear far apart.
While the long beard is very well-maintained, it's hard to take your eyes off the beautiful and long curly hair falling on both sides.
12. Petit Blonde Handlebar with Stubble Beard
For those with a receding hairline, an interesting mustache is a great way to keep people's attention on their faces.
This petit handlebar mustache with a beard is a clever combo because the stubble only serves as a background to a small yet very noticeable handlebar on the face.
13. Rollie Fingers Mustache with Anchor Beard
The rollie fingers mustache has very thin curves, probably attained with the help of gel. The mustache stands out on top of a small anchor beard that only covers the pointy part of the chin with some help from the soul patch.
What really completes this look is the slick back hair that makes you look like a character from a famous mobster movie.
14. Grey Einstein Mustache with Light Stubble
It's not your typical Einstein mustache–it's more of a variation with wings protruding on both sides. The beard is thin and slightly patchy but very visible due to the dark hair color.
The grey hair of the mustache contrasting with the dark stubble makes this handlebar mustache and beard combo more attractive.
15. Painter's Brush Mustache with Ducktail Beard
A close look at this mustache shows that it's a painter's brush mustache converted into a handlebar. The curled ends almost resting on the skin rather than sticking outward and the tapered sides of the beard give it a ducktail beard look.
16. Salt and Pepper Hungarian Mustache with Heavy Stubble
It's hard to beat this "man-of-the-house" look that uses a big, thick, and long Hungarian mustache as the anchor point.
The salt and pepper make the mustache even more interesting with a heavy grey stubble in the background. No doubt this style is more suitable for older Asian men.
17. Colored Handlebar with French Fork Goatee Beard
It will take immense courage for you to go for this one because it requires coloring not only your mustache but the beard as well.
The handlebar has delicate curls, but it's the beard that's the star of this show because it is a French fork goatee with a rift in the middle. The two sides of the beard are also curved like the mustache.
While growing a handlebar mustache, don't be sad if yours doesn't fully curl. Don't forget that the English mustache is just a variant of the handlebar, but the ends are straightened.
So, grow your beard and mustache and then try different combos to finally pick the handlebar mustache and beard combo that not only looks great but is easy to maintain for you.